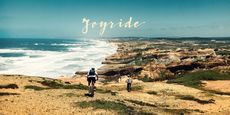 DA SILVA BIKECAMP Portugal
Discover the Portuguese Atlantic coast byMountainbike
The west coast of Portugal is undoubtedly a surfing paradise. Wonderful beaches and first-class surf spots attract many surfers from all over the world. But many don't know yet that our coastline is also perfect for mountain biking!
Storming Portugal by Mountain Bike
The near surroundings of our surf camp offer a huge playground with countless beautiful mountain bike trails. There are tours through the rustic hinterland past vineyards and olive groves, where you rarely meet other people. It is more likely to drive past a donkey cart or to see a lonely farmer working on his field in the distance. Other tours take you over narrow single trails directly along the cliffs and offer breathtaking views over the Atlantic Ocean. Some Secret Surfspot has already been discovered in this way. With our shuttle bus we also take you to much higher mountains, which are perfect for unforgettable day trips. There you will also find developed downhill tracks and a bunch of challenging single trails for every taste. In any case, you get to know Portugal in a special way on all tours. We would like to bring the country, the people and their culture closer to you. The athletic demands are not neglected. There is always some adventure and adrenaline with you.
Our Tours
Usually, we ride about 40-60 km and get to an altitude of 800-1200 meters. The tours are mainly cross-country, but there is always a bit of enduro and sometimes a bit of downhill. This depends mainly on the wishes and requirements of our participants, which we are happy to take into account. The following tours are just examples. There are countless variations of them, which you can see on

Our Mountain Bikes
The prices for our bike tours include high-quality full-suspension CUBE mountain bikes (Fully). Available are the models: CUBE AMS, Sting, and Stereo with 29-inch wheels and 120mm travel (front and rear).
Apropos
In spring and autumn we have the best weather for mountain biking. Not too hot, but warm enough to be on the road in shorts. While you are waiting for the summer at home, here you can enjoy unforgettable MTB tours in wonderful weather.
MTB-Package
from 505 € per week / person
including
7 days bed & breakfast in our camp
2x barbecue (also vegetarian) with campfire
5 mountain bike tours (4-6 hours / 40-60 km per day)
High-Level CUBE Fully Mountainbike (29 inches) with helmet
Shuttle bus to the best MTB trails in our area
Low Season

(Oct. – June)
Multiple: 505 €
Double: 540 €
Tiny House: 575 €
Single: 715 €

High Season

(July – September)
Multiple: 570 €
Double: 605 €
Tiny House: 640 €
Single: 815 €
Surf & MTB Package
from 505 € per Week
The combination of surfing with mountain biking! Ideal for every surfer who wants to go mountain biking while on holiday, and for every mountain biker who wants to surf while on holiday. The good thing about it: You can set the schedule so that you can surf when the waves are good and on the other days you can go on the MTB trails. 3 days surfing, 3 days mountain biking, could you possibly do more in one week?
including
7 days bed & breakfast at Da Silva Camp
2x barbecue (also vegetarian) with campfire
3 days of surf lessons (2 hours per session / 2 sessions per day) complete surf equipment (surfboard, leash, wetsuit)
Shuttle bus to the beaches with the best waves in our area
3 mountain bike tours (4-6 hours / 40-60 km per day)
High-level CUBE fully mountain bike (29 inches) with helmet
Shuttle bus to the best MTB trails in our area
Your Bike Gears:
If you want to ride in clipless cycling shoes, you should bring your own pedals and shoes. We also recommend having your own helmet, bike gloves, and a backpack for snacks (water, fruit, and a few muesli bars). Ideally you have a camel-back (drinking water backpack), cycling pants (padded) and functional sports underwear (at least 2x complete). Our guides always have repair kits, tire levers, pumps, spare tubes, a derailleur hanger, and a first aid kit.