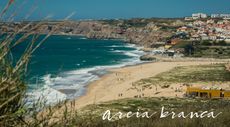 Surroundings
In addition to surfing, you can also spend your time with many other beautiful things! The area of Lourinhã and Praia da Areia Branca offers a lot of variety for young and old. You won't get bored. Check it out.
Leisure
We always offer you the opportunity to do something after surfing. There are almost unlimited offers. There is no fixed program, but we discuss on the camp what you want most. Then we conform to the majority. We take you there with our shuttle bus. All members of the excursion have to pay their own expenses. Everything is voluntary and is arranged spontaneously and individually.
Sports
Skateboarding, wakeboarding, kite surfing, karting, tennis, golf, diving, horse riding, paragliding and much more. And do not forget to check out our mountainbiking offers. In case the waves are too small or too big, or if it's too stormy or pouring rain and you can't go surfing then the surf courses will canceled due to "force majeure". In such a case, we offer you the above sporting activities as a compensation.
Daytrips
Speaking of which, not only when it's flat, we can think of a few things. And with Porto das Barcas, the Forte de Paimogo, Praia de Valmitão or Consolação – the surroundings of Lourinhã and Praia da Areia Branca are immediately visible. For everything "else" like a boat trip on the Berlengas, the World Surf Heritage around Ericeira, or the medieval town of Óbidos, we are always pleased to take a day off…