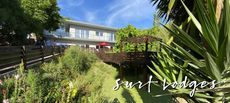 Da Silva Surf Lodges
Holiday Homes, Apartments & Studios
for individual surfing holidays in Portugal
In the vicinity of our surf camp there are various holiday homes, apartments and studios that are ideal for a surfing holiday. The quiet location, a comfortable living room with terrace and the well-equipped kitchen, in which you can cater for yourself, enable an individual surfing holiday here. You don't have to do without the amenities of a surf camp.
All of our sports offers, such as surfing courses, mountain biking, pony riding, yoga and trail running can be booked. Apart from that, you can come and join us at any time. Our barstuff is happy about every visit and the kids can jump into the pool while the parents refresh themselves at the bar. It is not uncommon for the conversations started there to end around a romantic campfire. The price includes two BBQs per week and a filled fridge for the daily breakfast or, if you wish, the breakfast buffet in the surf camp.
Da Silva Surf Lodges
We offer the "Da Silva Surf Lodges" as an exclusive alternative to our surf camp. Only 300m away from us, you can enjoy your holiday in an idyllic ambience. Five apartments are available with one bedroom, a spacious living area with an open kitchen and a comfortable bathroom. The sixth apartment has two bedrooms and two bathrooms. Smart TV, W-Lan, dishwasher are a matter of course. In front of the building there is a small lake with a natural spring. The wooden gazebo over the lake is great for reading a good book while listening to the birds chirping :)
Prices per person and night including breakfast and 2x BBQ per week:
July to September
for 2 people: 60 EUR
for 3 people: 50 EUR
from 4 people: 40 EUR
October to June
for 2 people: 50 EUR
for 3 people: 40 EUR
from 4 people: 35 EUR
Conditions
Minimum occupancy: 2 persons (adults)
Babies up to 2 years free of charge
Click here for booking.
Casa Vasco
Goreti Vasco has lived in Germany with her family for many years. Now she has fulfilled her dream of owning a house in Portugal and rents two holiday apartments 400m from our surf camp. She is happy about guests with whom she can converse in German. If you take a leisurely stroll along the country lanes from here, you can reach the nearby bathing beaches in a short time. Guests can use the inner courtyard and a small meadow with a view of the countryside. The apartment consists of a large kitchen-living room with fireplace and TV, two double bedrooms (each 135 x 185 cm) and a bathroom with bathtub. There is also a second kitchen with a fireplace where you can have a good barbecue.
Prices per night including breakfast and 2x BBQ per week at the surf camp:
for 2 people: 100 EUR
for 3 people: 125 EUR
for 4 people: 150 EUR
Minimum occupancy: 2 persons (adults)
Babies up to 2 years free of charge
Click here for booking.
People
Our Surfcamp Portugal is an open house, which means that there is always a lot going on here. Apart from the communal dinners, which are included in the price, we often organize spontaneous barbecues or campfire sessions. Since we are half Portuguese ourselves, friends of ours (locals) come over to sit around the campfire. Then it is not uncommon that suddenly someone takes out a guitar and the evening goes on much longer than planned. But there are also some very nice party-excursions in the surrounding area, to which we would like to take you in our shuttle bus. After all, you should not only learn to surf, but also get to know some of the nice Portuguese nightlife.