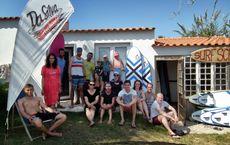 Start Surfing Today
with the
Da Silva Surfschool Portugal
With us – the Da Silva Surfschool Portugal – you can learn to surf easily and safely. We have the best surfing equipment for all levels and take you to the most beautiful beaches with some of the best waves in Europe. You can also participate in our surf courses even if you are not a guest of our surf camp! We will be happy to pick you up free of charge at your accommodation and drop you back off after the surf lesson.
Our ideology
The best surfer is the one having the most fun.
SURFING IS FUN
Since 2016 the surf classes at the Da Silva Surfcamp are done by our very own Da Silva Surfschool , which is also located on our property and helps beginners and advanced surfers on the board.
Depending on the wave conditions and level of the students, the classes take place at different surf spots a maximum of 20 minutes drive from Praia da Areia Branca. It is important to note that these are beaches which are not as crowded as the famous beaches of Peniche.
The surf courses are usually held from Monday to Friday. However, some sessions may have to be cancelled due to weather or wave conditions. In this case, alternative activities are offered, such as excursions to the surrounding area, SUP sessions, skateboard sessions or similar.
At the end of the complete course (beginner and/or advanced) each student should be able to stand on the board (take-off) or surf in the unbroken part of the wave (green water). The individual successes depend heavily on the motivation, talent and general physical fitness of the student. The price includes bus shuttle, surfboard and wetsuit, theoretical and practical lessons and insurance.
Surf Class Prices
The price includes the bus shuttle, surfboard and wetsuit, theoretical and practical lessons and insurance.
Low Season

(Oct. – June)
1 day /
2 sessions: 60 €
5 days /
10 sessions: 240 €
10 days /
20 sessions: 420 €

High Season

(July – September)
1 day /
2 sessions: 65 €
5 days /
10 sessions: 260 €
10 days /
20 sessions: 450 €
1 week/ 5 days surf classes include:
10 x 2 hours intensive surf course (2 hours per session / 2 sessions per day)
complete surf equipment (surfboard, leash, wetsuit) during the course
Shuttle bus to the beaches with the best waves in our area
Final BBQ with campfire at the surf camp
Beginers (first week)
Theory of weather, tides, currents and waves
Instruction in the matter (surfing material)
Safety regulations
Right of way in water
Paddling, sitting on the board, turning
Surfing in the white part of the wave
Advanced (second week)
Surf the green part of the wave
Duck Dive
First surfing maneuvers
Advanced technology
Surf front & backside
Style improvement

Recently we have started to offer the possibility to combine the Da Silva Surfschool with guided mountain bike tours. Sounds interesting? For more information, see [Mountain Bike](/en/mountain-bike/index.html).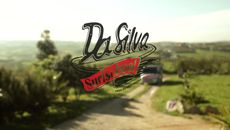 Certified by the FPS
(Portuguese Surfing Federation)