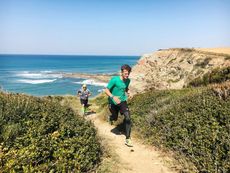 Trailrunning
Today's to Do:
RUNNING
The west coast of Portugal is undoubtedly a surfing paradise. Fantastic beaches and first-class surf spots attract many surfers from all over the world. However, many do not yet know that our coast is also ideal for trail running!
Discover Portugal's coast
We have been offering guided MTB tours since 2017 and are therefore always on the lookout for new routes with great single trails in our area. It often happens that some paths are very difficult or not accessible on a mountain bike. Exactly these trails are perfect for trail running! Directly from our camp, it goes straight to the steep coast, where you jog up and down the coast from one bay to the next over steep and rocky trails and has to concentrate very hard not to get the fantastic view of the lonely beaches and the to distract the blue Atlantic. Some trails in the backland through remote enchanted valleys, which are almost only used by goatherds and their herds. Here you not only feel transported to another world but even to another time.
Apropos
By the way, in spring and autumn, we have the best weather for the perfect run. Not too hot, but warm enough to run in shorts. While you are still waiting for summer at home, you can rock unforgettable trails in beautiful weather.
Prices
Depending on your interest and fitness, we will design an individual offer for you – everything is possible – whether just trail running or combined with a surf course! Ideal for every surfer who wants to tread less beaten paths on vacation, and for every trail runner who also wants to surf on vacation. The good thing about it: You can set the days so that you can surf when the waves are sound, and on the other days you can go on the trails. For example, three days of surfing, three days of trail running, can more be done in a week?
Prices on Request
We look forward to a great time with you!
Keep on running!