A warm welcome to you!
BEM VINDO
DA SILVA SURFCAMP
Portugal
At Da Silva Surfcamp you are close to nature, the sea and the Portuguese culture and joie de vivre. First class surf spots with little crowd offer perfect conditions for beginners and advanced surfers. Legendary BBQs and spontaneous campfire sessions provide unforgettable moments!
The Portuguese Spirit of Surfing
Our Corona Clean & Safe protective measures
Breakfast is served outside at the tables (no breakfast buffet).
Daily shuttle service in restaurants or fast food orders for everyone (no communal kitchen)
Tiny houses are handed over for breakfast with a full fridge.
Shared rooms only for groups of friends or families
Mask requirement in all indoor communal areas
Disinfectants are available everywhere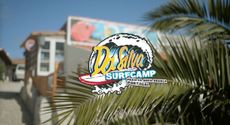 Certified by the Portuguese Surfing Federation
Get to know the "Spirit of Surfing" –
not only during surf lessons, but 24/7.
The Da Silva Surfcamp Portugal is a typical Portuguese country house in a quiet location with wonderful views over the countryside to the sea. Here a shepherd and his flock of sheep pass by twice a day, in the morning you are woken up by the crow of a rooster, otherwise you only hear the birds chirping. 20 minutes walk to the beach, with the beach cruiser, which you can rent for free, it only takes 10 minutes. This house is perfect for people who want to relax and escape the stress of the big city. It is ideal for families with children.
Book without detours, or do you have any questions? Regarding the swells, the surf school or around the camp and its events? You will find answers in our FAQ. And if not, theDa Silva Surfcamp Portugal answer this and your booking request 24/7!
No matter if you want to explore the spots and waves of the area on your own or if you prefer to join a surf course, the Da Silva Surfcamp Portugal offers you a very friendly and relaxed atmosphere. Starting at 20 € per night or in a surf package from 340 € per week.
You get hot? Well then, get on the plane to Lisbon! The 60km to the surf camp can be easily done by express bus to Praia da Areia Branca, where we will pick you up at the bus stop. "Luck is so close". If this is too stressful for you, you can also use our airport transfer.